At Temok, we not only provide Internet presence services like web hosting, design and development, but we also provide Domain Registration services. We have many years of experience so you can register your domains from more than a thousand TLDs. We offer the most affordable domain name registration service, as well as renewal services for the lifetime of your account.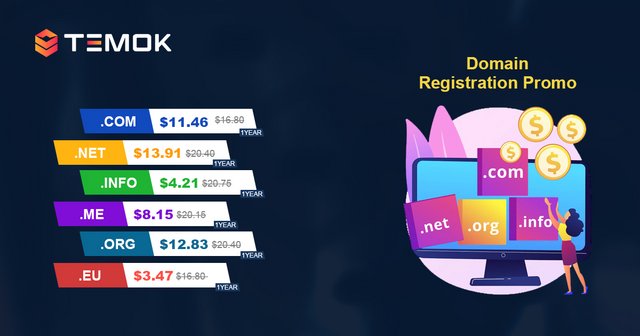 We are proudly offering Discounted Domain Registration for Limited Time and Valid till 30th September 2022. Hurry Up! And grab the offer now.
.COM
Price: $11.46/Year
.NET
Price: $13.91/Year
.ORG
Price: $12.83/Year
.BIZ
Price: $6.66/Year
.INFO
Price: $4.21/Year
.EU
Price: $3.47/Year
.SALE
Price: $7.30/Year
.BEST
Price: $3.68/Year
.BLOG
Price: $4.79/Year
.ME
Price: $8.15/Year
.STORE
Price: $5.75/Year
.SHOP
Price: $2.40/Year
.TODAY
Price: $11.46/Year
.TOP
Price: $1.99/Year
.WEBSITE
Price: $3.25/Year
.WS
Price: $6.95/Year
.XYZ
Price: $2.63/Year
.IO
Price: $42.95/Year
.AI
Price: $160/2 Years
We are offering some Additional Features for free at the moment.
◌ DNS Management
◌ Email Accounts
◌ Domain Forwarding
◌ Mail Forwarding
◌ Domain Theft Protection
◌ Cheap Privacy Protection
◌ Bulk Tools
◌ Easy to use Control Panel
◌ Lowest Price Guarantee
◌ 24/7 Support
◌ Instant Activation
The individuals who work at Temok are from the industry and most of them possess over 6-8 years practical experience in the web hosting market. Our employees are indeed our main power and we are at all times spending money on different individuals with fresh suggestions.
➛ We accept VISA, MasterCard, Bitcoin, American Express, PayPal, WorldPay and Diners Club International for payment.
Contact Info:
Email: sales(@)temok.com
Skype: temok.sales
Live Chat: Available on our Website